Fall Fun FAQ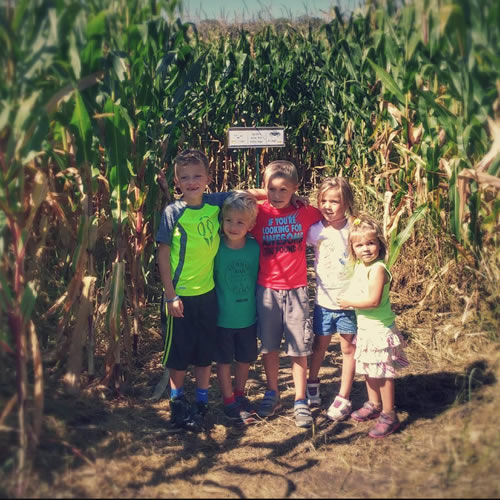 Farm Pricing, Admission and Hours Information
What forms of payment are accepted and Is Sales Tax Included?
We accept cash, Visa, Mastercard, Discover, American Express, Google and Apple Pay. Sales Tax is included in the price. WE NO LONGER ACCEPT PERSONAL CHECKS.
When is the farm open?
September 9th-October 29th.
September: Saturday and Sundays.
October: Fridays, Saturdays and Sundays. Also Thursday October 19th and 26th.
What are the hours?
9am-6pm – Note the last admission is at 5pm; but we recommend coming before 4pm.
What is the admission price?
Click here to see our admission page.
What activities are included with admission and what activities are not?
All activities are included except Gem Stone Mining and Egg Excavation.
Click here to see our activities page for details.
Do I need to purchase admission if I don't plan to do any activities?
Yes. Anyone 3 years of age and older must pay admission. We try to ensure the majority of activities can be enjoyed by almost all ages. Regardless of what activities you choose to participate in, or not, we hope we provide a wonderful place for you to enjoy reconnecting with nature and one another.
Can I purchase a season pass for the fall season?
Yes. Click here to see our admission page. Note: Season passes are non-transferable (cannot be shared) and non-refundable.
When is the best time to visit?
Come early! The earlier in the season you come, the fewer the people you will have to share the farm with. Busiest dates are the first 3 weekends in October. September weekends are less busy as well as the last weekend in October.
Can I bring my pet?
No. Pets are NOT allowed during the FALL Season. (Note: They are allowed for the Christmas Tree Season.)
Can I buy pumpkins and mums without paying admission?
Yes. You may purchase pumpkins, potted mums, gourds and other sales items without paying admission.
Note: Admission is required to see and cut sunflowers and zinnias.
Food and Beverage Information
What food and drinks are available for purchase?
We have a food trailer and the menu can be found here. Typically Kona Ice is available as well. However, these are outside vendors, so please call ahead to confirm.
May I bring food and beverages to the farm?
Yes, you may but NO ALCOHOL OR GLASS CONTAINERS.
Miscellaneous Information
What do you recommend I bring to the farm?
Comfortable and weather appropriate clothes. You may want bug spray and sunscreen. Definitely bring a camera. We recommend boots for the corn maze in case it is muddy.
Does an adult need to accompany children at the farm?
Yes. For the safety of all, an adult (18 years or older) must accompany children under 14 years old at all times while visiting the farm.
What if I lose sight of my child?
Please tell your child if they for some reason lose you to come to the admission grain bin or find an employee wearing a bright orange farm shirt to ask for help. Please come to the grain bin to report a lost child. TIP: Upon admission, you will receive a wristband — use a marker to write your cell number on your child's wristband so we can easily call you in the event your child is lost and asks for help.
Are there refunds if guests leave due to rain?
No refunds due to weather. Please check the weather before venturing to the farm. If you have any questions about the conditions at the farm please call 608-224-9246.