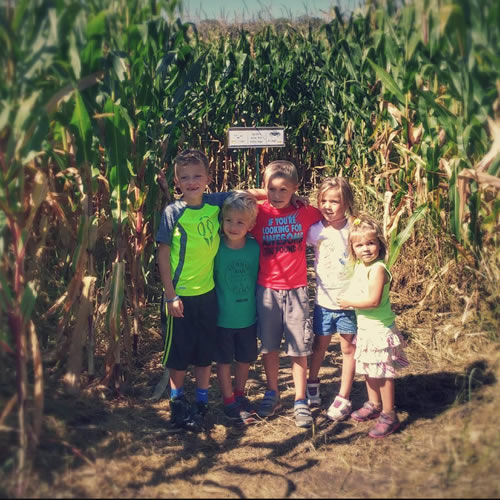 Policies & Conditions on Entry
Enchanted Valley Acres is a family friendly farm and we would like all visitors to relax and enjoy their visit. Please adhere to the rules below, and note we reserve the right to refuse service or entry to anyone who is unwilling to follow the rules and/or instructions.
NO WEAPONS of any kind (guns, knives, etc.)
PETS. Dogs are NOT allowed during the FALL Season. Dogs ARE allowed on a leash during the Christmas season.
NO ALCOHOL or DRUGS
NO ONE UNDER THE INFLUENCE of alcohol or drugs
NO SMOKING or VAPING
NO ENTRY AFTER BUSINESS HOURS without permission of owner
Children under 12 must be supervised at all times
Be kind and considerate of others
---
Fall Fun Frequently Asked Questions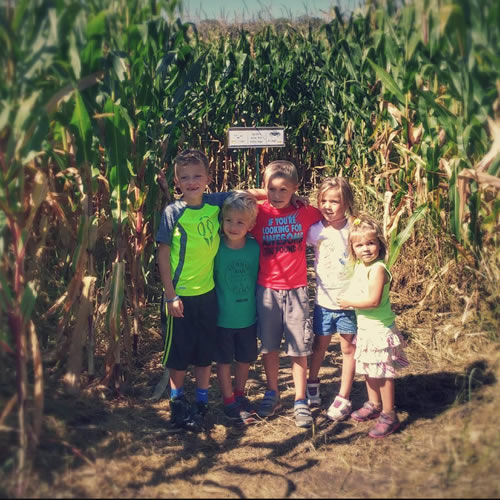 What forms of payment are accepted and Is Sales Tax Included?
We accept cash, checks, Visa, Discover and Mastercard. Sales Tax is included in the price.
When is the best time to visit?
Come early! The earlier in the season you come, the fewer the people you will have to share the farm with. Busiest times are typically the first two weekends in October.
May I bring food to the farm?
Yes, you may bring food to the picnic areas including the large deck overlooking the valley from the upper part of the barn. We also have food concession trailer available to purchase food.
What do you recommend I bring to the farm?
Comfortable and weather appropriate clothes. You may want bug spray and sunscreen. Definitely bring a camera. We recommend boots for the corn maze in case it is muddy.
Does an adult need to accompany children at the farm?
Yes. For the safety of all, an adult (18 years or older) must accompany children under 12 years old at all times while visiting the farm.
What if I lose sight of my child?
Please tell your child if they for some reason lose you to come to the admission grain bin or find an employee wearing a bright orange farm shirt to ask for help. Please come to the grain bin to report a lost child. TIP: Upon admission, you will receive a wristband — use a marker to write your cell number on your child's wristband so we can easily call you in the event your child is lost and asks for help.
Can I buy pumpkins and food without paying admission?
Yes. You may purchase pumpkins, gourds and other sales items without paying admission. You can also purchase food from the food concession trailer.
Are there refunds if guests leave due to rain?
No refunds due to weather. Please check the weather before venturing to the farm. If you have any questions about the conditions at the farm please call 608-224-9246 or 715-533-0241.
What is included in the admission price?
Click here to see our admission page.
Christmas Season Frequently Asked Questions
Is there an admission fee for the Christmas Season when I come to purchase a tree?
No. Visiting Enchanted Valley Acres during the Christmas Season is FREE!
Will you have all your activities available?
There will be limited activities available. There is no charge for the activities, however availability will be weather dependent.
Do you offer choose and cut and pre-cut trees?
Yes, we offer both.
How far do we need to walk to cut our own?
Less than 50 yards up to 1/4 of a mile
How do we get the tree back after we cut it?
There are 2 main areas you can cut your tree from: First location is the valley and if doing so from this area there will be carts or tarps, at no additional cost, in which you can place your tree on and bring back or just drag the tree. Second location is the hill where you'll receive a wagon ride up to the location and your tree will be placed onto the trailer and brought down with you.
Are hand saws provided?
Yes, provided at no additional cost.
Do you wrap the trees for transportation?
Yes. We can wrap/bale your tree no additional cost.
Do you shake the trees to rid of loose needles?
Yes. At no additional cost.
What are the size options for trees?
3 foot to 12 foot, on average
How much will the trees cost?
$60-70 dollars for cut-your-own trees on average. Pre-cut trees varied and are marked accordingly.
Is there rope provided to tie trees to vehicles?
Yes. At no additional cost.
Will someone help me tie it to the vehicle?
Yes, as needed
Is there a warming station?
Yes, the lower barn is a heated area with tables, lights and Christmas music so you can enjoy your hot apple cider (free with tree purchase) and warm donuts (additional charge) or to just warm up. There are large blocks for the kids to play with as well. We also have a warming trailer on top of the hill, if needed as well.
Do you have garland and wreaths for sale?
Yes.
Does an adult need to accompany children at the farm?
Yes. For the safety of all, an adult (18 years or older) must accompany children under 12 years old at all times while visiting the farm.
Are dogs allowed?
Yes, dogs are allowed on a leash during Christmas tree season only. Dogs are not allowed during the fall season.